This post may include affiliate links. That means I may earn a small commission if you click and make a purchase, at no additional cost to you. Thanks for your support!
Looking for some frugal living tips to get your family budget on track and grow your savings?
Living frugally is something I happen to know a lot about–but I also know that it can be easier said than done sometimes.
You might be living paycheck to paycheck already, for example, and feeling like there isn't anything else you can cut from your budget. Or you have the best of intentions when it comes to tracking your spending but your money just seems to get away from you.
Managing your finances well is something that can take time to learn how to do it. I've always been a saver but I didn't get serious about saving for the future and paying down debt until a few years ago.
And part of the reason is that I started taking frugal living seriously.
What Does Frugal Living Even Mean?
There's this idea that living frugally means you have to be a total tightwad and pinch every penny. And that's just plain wrong.
But I remember having that thought before I started learning about frugal living when those extreme couponing shows became popular. I'd see these moms triumphantly buying 100 packs of toilet paper for $5 and I assumed that's what being frugal meant.
Now I know better.
Because living a frugal lifestyle isn't really about scoring the best deals on bulk toilet paper purchases or being a total cheapskate. It's more about intention — what you do with your money and what you don't.
Frugality is a choice and once you get into the habit, it's a pretty easy one to make. It's not about deprivation or lack or bare-bones living, either. Becoming frugal can open you up to abundance in unexpected ways.
And this is something anyone can do; it just takes commitment and a little creative thinking when it comes to spending and saving.
What's In It For Me?
This is a great question and I think it's one of the reasons more people don't decide to be more frugal. They only see the work and not the reward and they miss out on a ton of amazing benefits.
For example, when you choose to start following frugal living tips, you can:
Pay your bills each month without worrying whether you'll run out of money.
Finally get out of debt.
Break the paycheck to paycheck cycle and grow your emergency savings.
Plan for retirement or save for college expenses.
Start building wealth and work toward financial freedom.
That all sounds good, right?
Those are all financial goals I've achieved or am working on right now. And it's all because I decide to make frugal living tips a part of my regular money routine.
Ready to do the same? Then this post is just for you. Once you've read through all the tips be sure to grab your free Money Saving Guide so you have a handy reference to refer back to as you plan your frugal living journey!
Frugal Living Tips: Save Money at Home
1. Cut your cable TV and start streaming with Amazon Prime and Hulu.
2. Unplug electronics whenever you're not using them.
3. Set your thermostat two degrees higher than you normally would in summer and two degrees lower in winter to control heating and air costs.
4. Or invest in a programmable thermostat so you can set it and forget it.
5. Get rid of your landline and switch to a prepaid cellphone.
6. Avoid washing and drying clothes at peak energy usage times for your area.
7. Wash clothes in cold water and use the most energy-efficient setting on your dryer.
8. Or buy a clothes drying rack and skip the dryer completely.
9. Learn how to make your own cleaning supplies. (Cheaper and eco-friendly!)
10. Swap out paper towels for reusable hand towels.
11. Keep your fridge and freezer full so they run more efficiently.
12. Change out your air filters regularly and consider buying in bulk to get a lower price per filter.
13. Have your heating and air system professionally cleaned and serviced twice a year to cut down on energy costs.
14. Cancel newspaper and magazine subscriptions. Read the news online and check your local library for magazines.
15. Reduce, reuse and recycle as much as you can. Challenge yourself to try zero-waste living for one week to see what you can save.
16. Seal up cracks around windows and doors to better insulate your home and keep a lid on heating costs in winter.
17. Turn off lights when you leave the room and invest in energy-efficient bulbs.
18. Use a timer to help you take faster showers.
19. Wait until you have a full load to run your dishwasher.
20. Make sure you have your hot water heater tuned to the most energy-efficient setting.
21. Use the Trim Financial Manager to find expenses you can cut from your household budget.
22. Consider refinancing your mortgage to get a lower interest rate.
23. Declutter your home to get rid of things you don't need, then commit to not filling it back up with "stuff".
24. Learn to handle basic home repairs yourself instead of hiring someone to do it for you.
25. Buy rechargeable batteries you can reuse over and over.
26. Plan a frugal family staycation instead of spending money on a trip.
27. Set up a change jar to stash your change and loose $1 bills.
28. Raise your homeowner's insurance deductible, which can lower your premium.
29. Bundle your homeowner's and car insurance together to get a discount on premiums.
30. Find ways to work out at home and take a pass on pricey gym memberships.
31. Review your family budget once a month to see if there are any expenses you can cut.
32. Consider rotating your kids' toys. It cuts down on clutter and old toys may seem new again.
33. Try creating a capsule wardrobe and re-wear items a few times before washing them.
Frugal Living Tips: Save Money on Groceries and Food
34. Always shop at the grocery store with a list.
35. Download the Ibotta app if you haven't yet to save money on groceries.
36. Save on everyday grocery essentials with Amazon Pantry.
37. Learn how to meal plan, which can save you both money and time. (Try $5 Meal Plan if you need some quick inspiration!)
38. Check the unit prices as you shop and compare whether it's cheaper to buy in bulk.
39. Don't be afraid to switch name brands for store brands.
40. Sign up for your grocery store's rewards or coupon program.
41. Use your store's online shopping and curbside pickup so you're not tempted to make impulse buys. (Or better yet, get your groceries delivered with Instacart!)
42. Try meatless Mondays to cut down on grocery costs.
43. Learn to grow your own indoor herb garden.
44. Try some easy recipes using veggie scraps.
45. Batch cook using your crockpot or Instant Pot.
46. Store away some inexpensive freezer meals for those nights when you're too busy to cook.
47. Learn how to make your favorite restaurant recipes at home.
48. Cut out soda juice and switch to water. (Bonus points for using a sustainable water bottle instead of plastic bottles!)
49. Learn how to make your own breads, cakes and cookies instead of buying store-made versions.
50. Learn how to can jams, jellies, fruits and vegetables.
51. Shop seasonally and take advantage of your local farmer's market.
52. Buy markdown and clearance food items that are still within their expiration date.
53. If you have to go out to eat, try to stick to "Kids Eat Free" promotions.
54. Join your favorite restaurants' birthday clubs or rewards programs to get money-saving coupons and deals.
55. Go potluck when hosting dinners at home for friends and family.
56. Purchase dry goods, such as rice, beans and flour, in bulk if your store offers bulk bins. Take your own reusable containers to fill up.
57. Shop the outside of the grocery store and skip the center aisles, which are packed with processed and pricey foods.
58. Consider whether it makes sense to invest in a deep freezer. If you can't keep it full, having it plugged in can run up your energy costs. (Learned that the hard way!)
59. Stop buying processed snacks and offer your kids fresh fruits and veggies instead.
60. Learn how to make your own doggie treats for your pets from simple ingredients you already have.
Frugal Living Tips: Save Money on Shopping
61. Use apps like Swagbucks, MyPoints and ShopAtHome to earn free gift cards on shopping.
62. Sign up for your favorite stores' email lists and rewards programs to get coupons and deals in your inbox.
63. Consider whether you can buy secondhand or repurpose something you already have before making a new purchase.
64. Instead of buying kids' clothes, get together with some other moms and host a clothing swap.
65. Use the Paribus app to find price matches when shopping online and get money refunded to you automatically.
66. Install the Honey browser extension to automatically apply coupon codes when you shop online.
67. Sign up for Target Circle to get access to exclusive savings. Consider applying for a REDcard to get 5% back when you shop Target stores or online.
68. Learn how to stack cash back rewards if you shop with a rewards credit card.
For example, you can get up to 10% back at Amazon when you shop through Rakuten, plus any cash back you earn with your card. (Ge a $10 cash bonus when you sign up!)
69. Use less detergent when washing your clothes to help them last longer. (I just learned about this a few weeks ago and it was a game-changer!)
70. Shop the dollar store for party favors, gift wrap and other inexpensive items. Then learn how to turn them into amazing DIY home decor!
71. Sign up for Acorns to invest your spare change each time you shop. (And get a $10 bonus when you use this link!)
72. Use sites like RetailMeNot and Coupons.com to check for coupons and promo codes before shopping.
73. If you're shopping for the holiday season, plan your budget well in advance. Consider setting up a separate savings account just for the holidays.
74. Consider making your gifts for holidays, birthdays and other special occasions.
75. Try a no-spend week or month to see if you can avoid spending money on shopping and other nonessentials.
76. If you're shopping online, stick with sites that offer free shipping and free returns.
77. Learn to shop seasonally and wait for end-of-season deals.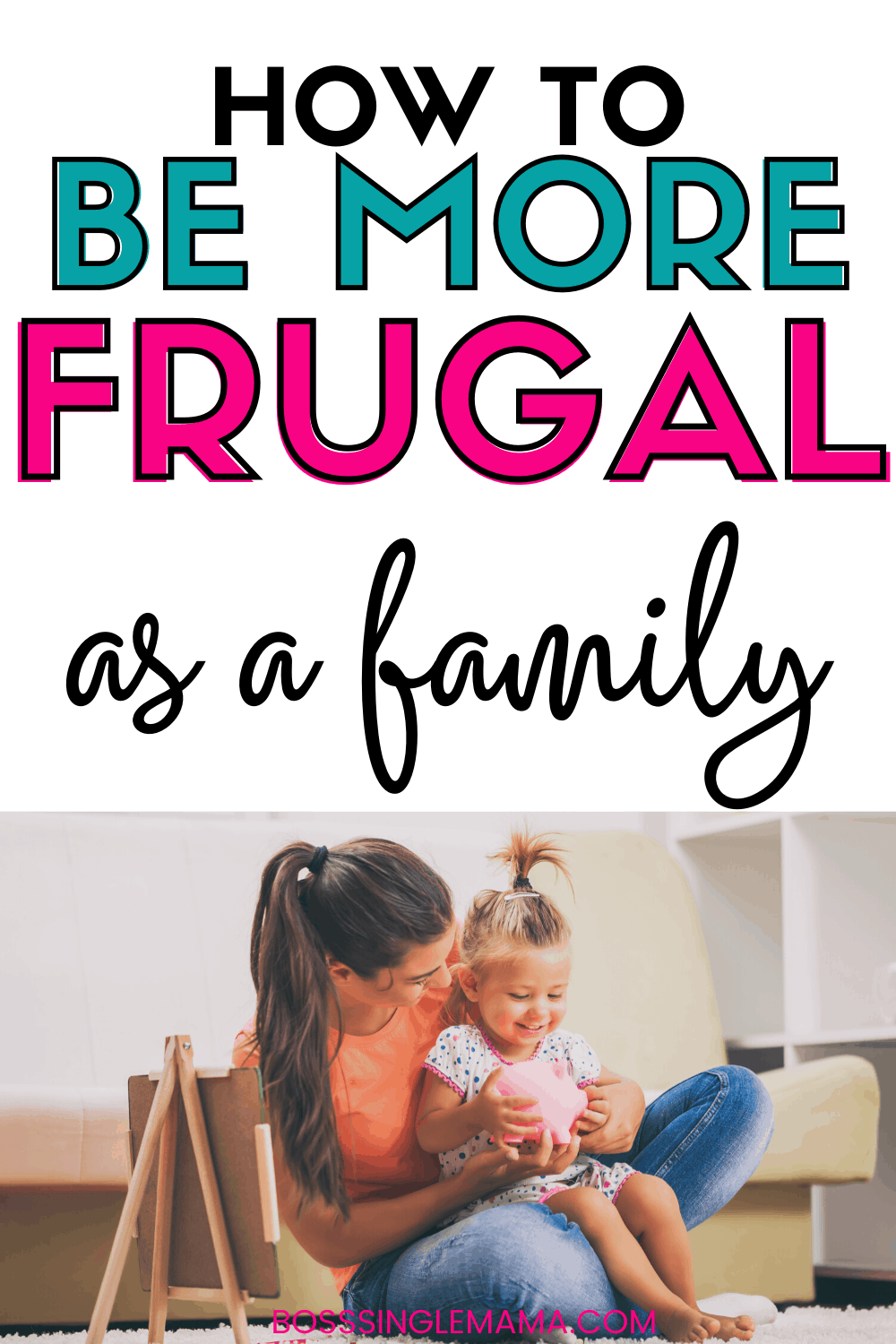 Frugal Living Tips: Save Money on Family Fun
78. Find frugal and low-cost activities you can do as a family during the fall and spring when it's nice enough to spend plenty of time outdoors.
79. Institute some inexpensive family traditions for the holidays.
80. If you go to the movies, check to see if your theater offers a rewards program. I've saved almost $300 over the past few years using AMC Premiere rewards.
81. Stay home and stream movies using Amazon Prime instead.
82. Check your local parks and rec for free family-oriented activities throughout the year. For example, our town does free movies in the park all summer long and during the holidays.
83. Consider investing in a family annual membership to your favorite museum, theme park or other local attraction to save money.
84. Have a weekly family game night.
85. Take walks or ride bikes as a family.
86. Instead of having big blowouts for birthdays, consider having a smaller family party at home. Or skip the party and let your child choose one inexpensive activity they'd like to do for the day.
87. Limit the number of gifts you buy for holidays or birthdays. The rule of four is a good one to follow for gifting.
88. Volunteer together as a family. You can save money and give back, which is great for teaching kids about gratitude.
89. Look for low-cost activities offered by volunteer-driven organizations. For instance, my kids take a monthly art class that costs just $10 through our county arts council.
90. Check out free festivals and concerts offered in your town. Our local sheriff's department does a free fall festival each year that we always look forward to.
91. Pull out the arts and crafts supplies and let the kids create their own art gallery at home.
92. Drop the kids off at the grandparents once a month and have a cheap date night at home.
93. If you have smaller kids, check out everything your local library has to offer. Storytime was always a hit with my kids and our library also does craft hours and book clubs for older kids.
Frugal Living Tips: Save Money on Everything Else
94. Get your tires rotated regularly and keep them properly inflated. This helps them last longer and increases your car's fuel economy.
95. Wash and detail your car at home, versus paying to have it done.
96. Learn to cut your hair and do your nails at home.
97. Ditch one bad habit, like smoking or drinking alcohol.
98. Learn how to track your spending so you know exactly where your money's going. This can be a real eye-opener the first time you try it.
99. Cut your grass instead of paying someone else.
100. Clean out your gutters in the fall. Clogged gutters can lead to water leaks and damage, which means big money headaches.
101. Consider using cloth diapers instead of disposable. If that's a no-go, sign up for Amazon Family to get 20% off diaper subscriptions.
102. Opt-out of prescreened credit card offers. This can make it less tempting to sign up for a new credit card which could potentially lead to debt.
103. Make good physical and dental health a priority. Staying healthy means fewer doctor visits and less money spent on health care.
104. Consider switching banks if you're shelling out big bucks for fees each month.
105. Train your indoor cat to go to the bathroom outside. No more spending money on litter and no more messes to clean up!
106. Check your health insurance each year during open enrollment. Compare what you're paying now to see if you can get a better deal.
107. Review your investment accounts to see how much you're paying in fees. Consider moving your retirement or investment accounts to a brokerage that charges fewer fees.
Frugal Living Tips: Make Money to Save Money
108. Learn how to get paid to write online.
109. Start a virtual assistant business.
110. Get paid to lose weight with HealthyWage.
111. Scour the web for money-making side hustle ideas.
112. Open your own Etsy shop.
113. Take surveys with Survey Junkie.
114. Become a pet sitter with Rover.
115. Sell your services as a freelancer on Fiverr.
116. Start your own mom blog.
What Are Your Best Frugal Living Tips?
Now it's your turn–do you have some amazing frugal living tips to share? Head to the comments and tell me about it!
And don't forget to grab your FREE Money-Saving Guide!